Call & Response is an awe-inspiring historical and artistic account of the extraordinary significance of the African tradition of call and response in American culture, and its impact on freedom, justice and equality.
Purchase tickets here.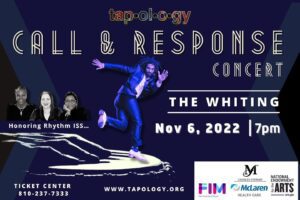 The Concert will feature special tributes to the 2022 Tapology Living Legends Rhythm ISS…
Attendees can also look forward to live dance and musical performances by Tapology's beloved Youth Ensemble, Tapologists: Jason Samuels Smith, Maurice Chestnut, Brinae Ali, Starinah Dixon, Frances Bradley-Vilier, Bruce Bradley, Kandee Hogan, Mikaela Eva's, Shanzell Page, African Drumming by Baba Kevin, Tapology Music Director and Master Pianist Lafayette Harris, Jr., Vocalist Cherisse Bradley and Award-winning Bandmembers Drummer Gayelynn McKinney, Bassist Jonathon Muir-Cotton, Saxophonist Alex Colista and Guitarist Reichlin Small.
The Call & Response Concert will be on Sunday, November 6, 2022, at 7 p.m., at The Whiting, located at 1241 E. Kearsley Street, Flint, Michigan, 48503